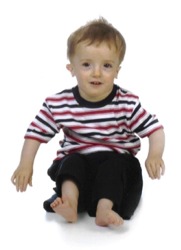 I live in a village called Crigglestone, which is near Wakefield in England. I was one of the last people to be born at Pinderfields Hospital. When I was born I weighed in at 6lb 12oz.
My Mummy is called Alison and my Daddy is called Richard. They both love me very much and are very proud of me. I have one uncle on the Lord side of my family and two aunts and an uncle on my Mummy's side and I also have five cousins already.
Well I've hit the big '02' that's right its hard to believe but I'm now two years old, I don't know what has happened to the time, before I know it I will be three !
I spend most of my time playing with my toys and some days I go to Mummies work and lots of nice people look after me at Crèche. It means getting up early but its worth it as I play with all my friends and I can make loads of mess. I get to sleep in at the weekends which makes Mummy & Daddy very happy !
In the last two years I have become a bit of a globe trotter, I have been to Wales, France, Tenerife and to Memphis in America, San Marino and Italy, and in November I'm going back to Memphis and then to New York. I'm a luck little boy !!!!
I have met loads of nice people who made a really big fuss of me. I love being the centre of attention !!
Please have a look around my web site, I would love to hear from you.
Adam

This page was last updated on 11-Feb-2005